Leía en El País hace un par de años que había una bebida en los refrigeradores californianos que la mayoría de los españoles no sabría reconocer, popular, adictiva y, para variar, increíblemente sana: la kombucha. La Kombucha es una bebida refrescante obtenida de la fermentación del té azucarado con una colonia simbiótica de bacterias y levaduras llamada SCOBY (symbiotic culture of bacteria and yeasts) que le confiere un sabor peculiar y el contenido en probióticos.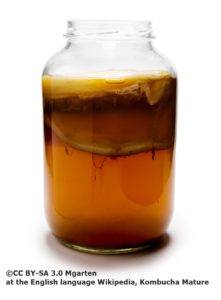 Bueno, la kombucha es mucho más que eso, o al menos eso es lo que aprendí hace unos meses durante una visita al Basque Culinary Center (BCC) de San Sebastián, la meca de la investigación y la innovación en gastronomía. El BCC alberga uno de los laboratorios de investigación y desarrollo gastronómico más punteros a nivel internacional –BCulinaryLAB– en el que exploran nuevos usos gastronómicos a productos mediante técnicas como la fermentación, estudian el uso de hierbas silvestres con valor gastronómico o desarrollan productos gastronómicos en base a residuos. Han desarrollado queso de cabra utilizando solo la microbiota de las hojas de ortiga como cuajo, han fermentado ciruelas silvestres al estilo umeboshi, trabajan con los mohos del Aspergillus oryzae que tradicionalmente se usa en oriente para fermentar la soja y hacer miso o el arroz para el shake y han creado salsas y miso de bellota, cacao y quinoa. También utilizan las pieles de frutas y verduras del restaurante del BCC para fabricar vinagre, hacen una bebida carbónica partiendo de la chufa, han adaptado un cultivo de kombucha para desarrollar una kombucha de café, partiendo de las borras de café que se tiran en la cafetera del BCC y están trabajando nuevas líneas de productos fermentados partiendo de hierbas silvestres o para hacer helados probióticos. Increíble ¿no?
Como os podéis imaginar, la visita al BCC y al Laboratorio fue todo un descubrimiento, conocer de primera mano las bases científicas detrás de tanta innovación y creatividad en gastronomía no tiene precio y escuchar tantos conceptos y términos nuevos es el sueño de cualquier traductor o intérprete. Aquí os dejo el enlace al blog del BCulinaryLAB para que veáis que no exagero.